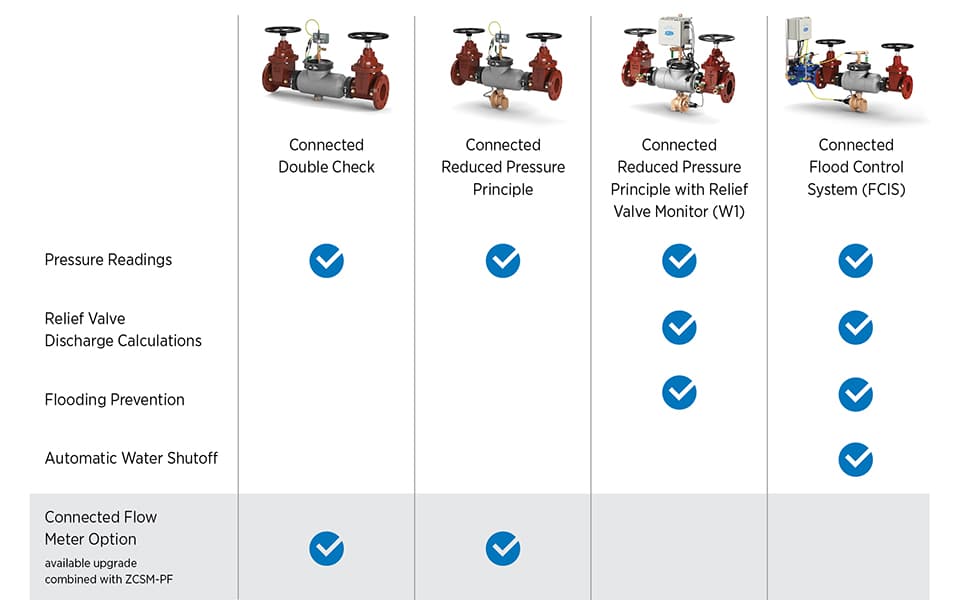 Backflow preventers play a vital role in protecting our water. Whether in the corner of a basement or outside and out of sight, they're not exactly on your radar. Take control with Internet-Connected Backflow Preventers.
That is until failure and contamination occurs…
Zurn Internet Connected Backflow Preventers monitor performance from flow to pressure to valve discharge. You and your team members can act in real-time, before there's ever a real problem. Even more, you'll gain insights and a little more predictability into that day of yours.
So, when you're doing your job, so is your backflow preventer.
PLUMBSMART™
View the status and performance history of your Zurn Internet Connected Backflow Preventer from our secure portal, plumbSMART, no matter where you're at or what you're doing. Once your product is registered, log in to view a snapshot of your system and dive deeper into data trends.
The more you know, the more you can predict and the faster you can respond.
ZURN CONNECTED FLOOD CONTROL SYSTEM (FCIS)
Undetected relief valve discharges cause contamination and flooding. Zurn Internet Connected Flood Control System alerts you as soon as pressure changes or relief discharge surpasses your set tolerances. Most importantly, your system can shut off the water automatically. Monitoring solutions ensure safety, reduce liability, and offer peace of mind.
Size options in 2-1/2″, 3″, 4″, 6″, 8″ or 10″
Integral relief valve monitoring
Real-time alerts for preset discharge mode
Automatic ACV shutoff of water supply
High-hazard protection for potable applications
ZURN CONNECTED PRESSURE MONITOR (ZCSM-PF)
You can't manage what you don't monitor. Zurn Connected Pressure Monitor allows you to set high- and low-pressure thresholds. This option upgrades all Zurn Wilkins Double Check Backflow Preventers and comes free to connect with all Zurn Wilkins Reduced Pressure Principle Backflow 2-1/2" or larger.
Proactive incoming water pressure monitoring
Real-time alerts for preset high and low pressure
Available for Double Check or Reduced Pressure Principle Backflow Preventers 2-1/2" or larger
It's FREE To Connect
All large RP backflows purchases after March 1, 2020 can be connected free of cost.