Commercial Trench Drains
703-392-9922
Zurn's complete package of Commercial Trench Drains and rough plumbing products drive efficiencies while reducing labor throughout the construction process. Our products are easy to install and durable for the long haul.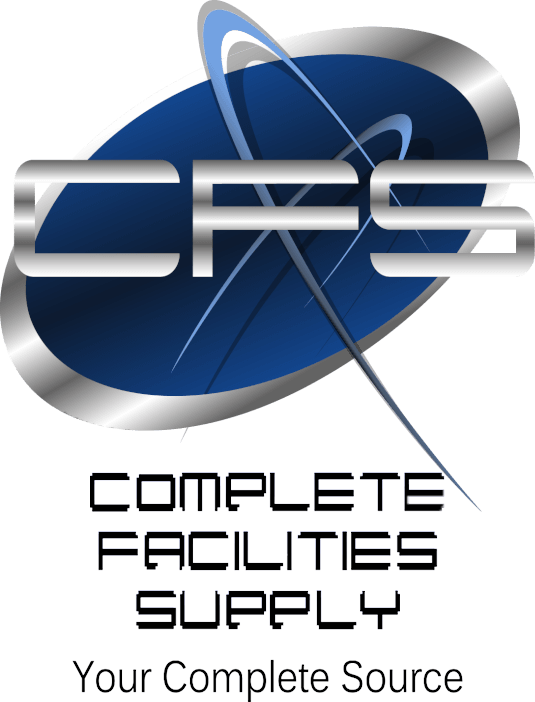 703-392-9922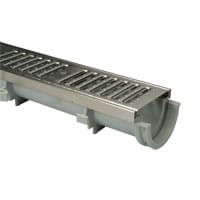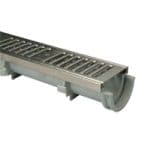 Linear Trench Drain
When the project prerequisites keep adding up, it's hard to know where to begin. We'll cut through the complexity for you. Our systems can be narrowed down by industry. And while the solutions range from decorative to utility, you can expect ease of installation and lower cost of ownership with every trench drain.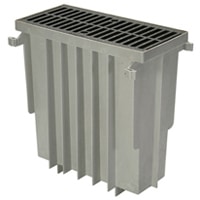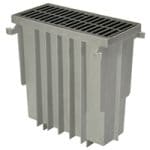 Catch Basins
Zurn Specified Commercial Systems offer drainage solutions for commercial and industrial applications. Specified Commercial drainage systems are used in applications where heavier loading may occur, such as commercial kitchens, warehouses, and industrial plants that encounter forklifts, hand carts, and other heavy traffic loadings.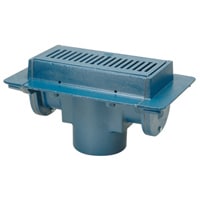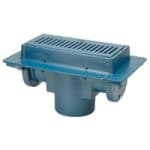 Cast Iron Trench Drains
Zurn Z664 6″[152] wide top modular trench drain, dura-coated cast iron drain section with bottom outlet and secondary dome strainer. Both 12″ [305] long outlet and extension modules are complete with integral seepage pan and loose heavy-duty slotted heel-proof grating.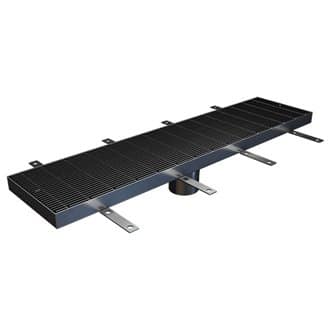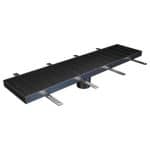 Elevator & Threshold Trench Drains
The Z899-100 was designed to fit in front of the elevator door or in front of an elevator bank to limit water flow into the elevator shaft to protect fire personnel from the effects of cascading water when staging and performing emergency egress.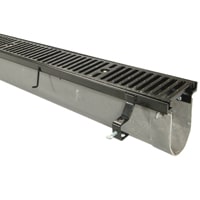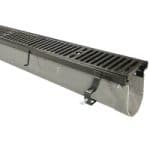 Chemical Processing Trench Drains
Innovative Z-Frame transfers load directly to the concrete. Proprietary vinylester resin provides self-extinguishing fire protection and advanced chemical resistance. Optimized system design withstands temperatures up to 210° F.  Save up to 75% installation time compared to cast‐in‐place systems while maintaining structural integrity. Longer, lightweight pieces allow for lower job site inventory, ease of system alignment, and reduced worker fatigue. Integral rebar clips for elevation set and final adjustment. Easy to clean with no specialized tools needed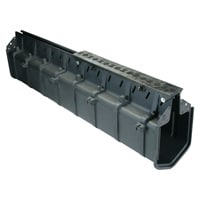 Transportation Trench Drains
The Zurn Z888 Hi-Cap® is a modular slotted drain system constructed from linear low-density polyethylene and is equivalent to corrugated steel slotted drain. The Zurn Hi-Cap is designed for the collection and conveyance of stormwater for high flow applications in highways, ports, and airports.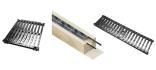 Frame & Grate Systems
That's why we engineered our systems with the ideal balance of lightweight design and durability. We made sure contractors could handle our trench drains without heavy lifting, alignment hardware, or extra hands. The longer, modular assembly eliminates more than just installation pains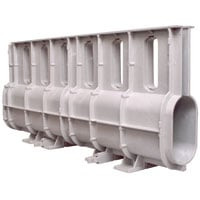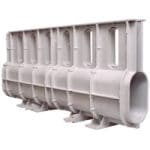 Sports Complex-Recreational
Pre-sloped trench drain systems are offered in high-density polyethylene, stainless steel, and fiberglass with Class A, pedestrian and ADA compliant through Class F 200,000 lb. load rating grate options to meet your job site needs.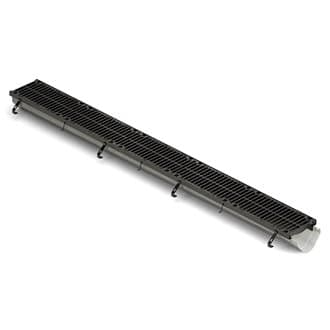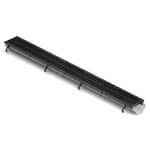 Food Processing
Zurn ZF812 12″ [305] wide reveal fiber reinforced non-combustable polymer trench drain system with steel frame with 120″ [3048] long, 12″ [305] wide reveal channels and a 9-1/4″ [235] throat. Provided with DGC grate that locks to frame for secure fit.
Give us a call today at 703-392-9922 or stop by our warehouse to see our selection.
With product systems designed to work better together, Zurn simplifies commercial drains through our breadth of high-quality, low-maintenance products.
For more than a century, Zurn Engineered Water Solutions™ has established itself as an innovator and leading manufacturer of highly engineered water product solutions. Zurn's innovative value-added designs are focused on the end-user and installer to provide ease of installation and low life cycle costs. We have a long-standing history of serving the customer while remaining focused on continuous improvements to provide sustainable value and satisfaction in every installation throughout the water demand chain. When you buy commercial drains, you get one reliable recognized manufacturer capable of supplying your entire installation, from rough-in product behind the wall, to finish trim product and fixture systems

Address
8801 Virginia Meadows Drive
Manassas
VA 20109
USA

Phone
(703) 392-9922
(703) 334-5009 fax

Address
8801 Virginia Meadows Drive
Manassas
VA 20109
USA

Phone
(703) 392-9922
(703) 334-5009 fax
Complete Facilities Supply © 2022 All rights reserved.