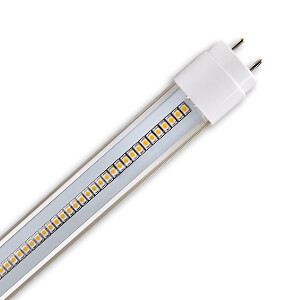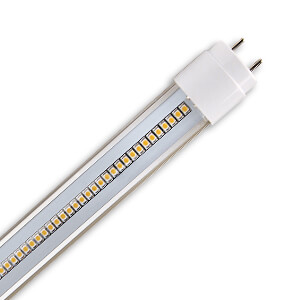 An ideal energy saving choice for existing linear fluorescent fixtures. Electronic ballast compatible T8 LED Tube's replaces and retrofit's the existing fluorescent fixture directly, plug and play with next generation ballast compatible T8 led tubes.
Our next generation ballast compatible T8 led tubes are compatible with Philips, Osram Sylvania, GE, Sony, Panasonic, Pacific, Howard, Robertson, Sunpark, Superior, Keystone etc electronic ballast.
Next generation ballast compatible T8 led tubes advantages:
1. Compatible with 99%+ inductance ballast and 80%+ electronic ballast used in USA,Canada and the European market. It directly replaces the with exiting fixture, plug and play, next generation ballast compatible led tubes coming soon, which will cover 98%++ ballast all over the world.
2. Work perfectly with or without a ballast. if the ballast is not longer working. No need to purchase or replace the ballast. Just direct wire the fixture and then there is no longer a need for a ballast.
Features, Benefits, Performance of Next generation ballast compatible T8 led tubes:
Works with instant start electronic ballast (100-277VAC & 347VAC)
Works without ballasts (100-277VAC & 347VAC)
50% reduction in energy consumption
50,000 hrs lifespan, 5 years warranty non-prorated manufacture's warranty
Vibration and impact resistant
No mercury allowing for non-hazardous waste materials
Instant illumination, no flicker, no buzz
No UV emission
UL DLC cUL FCC CE Compliant
Our LED tubes are one of the only ballast compatible T8 led tubes to work with or without the ballast. A lot of other manufactures claim to be ballast compatible but will always require a ballast in order to operate the LED tube. Our tubes allows the end user to just replace the tubes without having to rewire anything, JUST REPLACE THE TUBES, and you are done. Once the ballast goes bad then direct wire the tubes and keep on truckin. No need to replace the ballast, just recycle it (we can help with that also). Easy Pesy Lemon Squeezey, No need to stock ballast anymore.
Our LED tubes are truly next generation. We stand behind our product with third party testing that includes the LM-79 and the latest LM-80 test. Make sure to look for the LM-80 test when buying you T8 tubes in addition our product is also featured in the DLC QPL approved list. With us you are getting the latest in DLC approved lighting not last years or even last weeks old technology. When you need or are looking for LED T8 tubes please contact us. We want to help you and inform you we would hate for your to think bad about LED technology because someone sold you an outdated product lets us help you. We do free no obligation assessments of your property and are more than glad to help you for a no cost evaluation.
For further information on next generation ballast compatible T8 led tubes. Please contact John Foster at johnj@completefacilitiessupply.com or office number 703-392-9922
next generation ballast compatible T8 led tubes
Complete Facilities Supply
8801 Virginia Meadows Drive,
Manassas, VA 20109