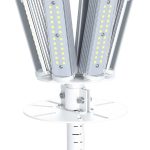 A professional field transition of traditional post tops to LED; keep the charm, improve the light, eliminate maintenance.
Keep the charm and offer customers a professional field transition from a traditional post-top system to a like-new LED system. Originally designed as a new post top engine to OEMs, and now offered with the same performance for field conversions to LED. POST TOP LED RETROFIT
​The new post top will look like it was designed for LED while maintaining the quality of the original fixture.
​Available with a variety of installation solutions, color, lumen packages, and optical control to maintain the sophistication of a classic post top while delivering excellent downlight to the street or walkway.
​Available as a replacement to metal halide, high-pressure sodium, or amber.
Floating Post Top
The floating post top provides 85% downlight and 15% uplight to any bottom-based mount. The driver can either be mounted to the top of the base bracket or below the unit in the base of the fixture (typically replacing existing ballast).
Finial Mount
The finial mount solution works well when the fixture has a detachable finial. The light unit hangs from the finial in the hat of the fixture and provides a great install and terrific downlight. Adjustable rod length.
Plate Mount
The plate mount solution is designed for installation in the top hat of the fixture.