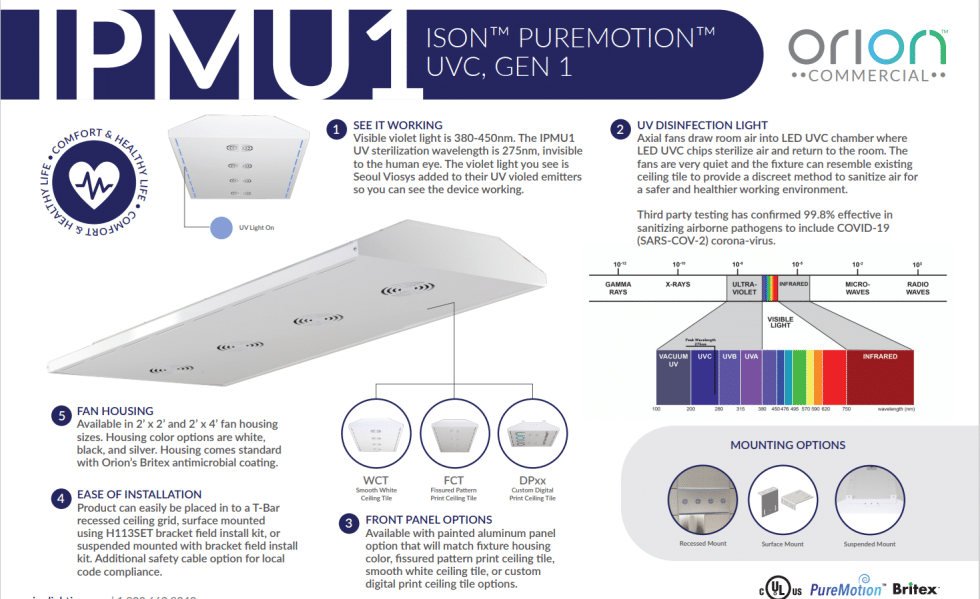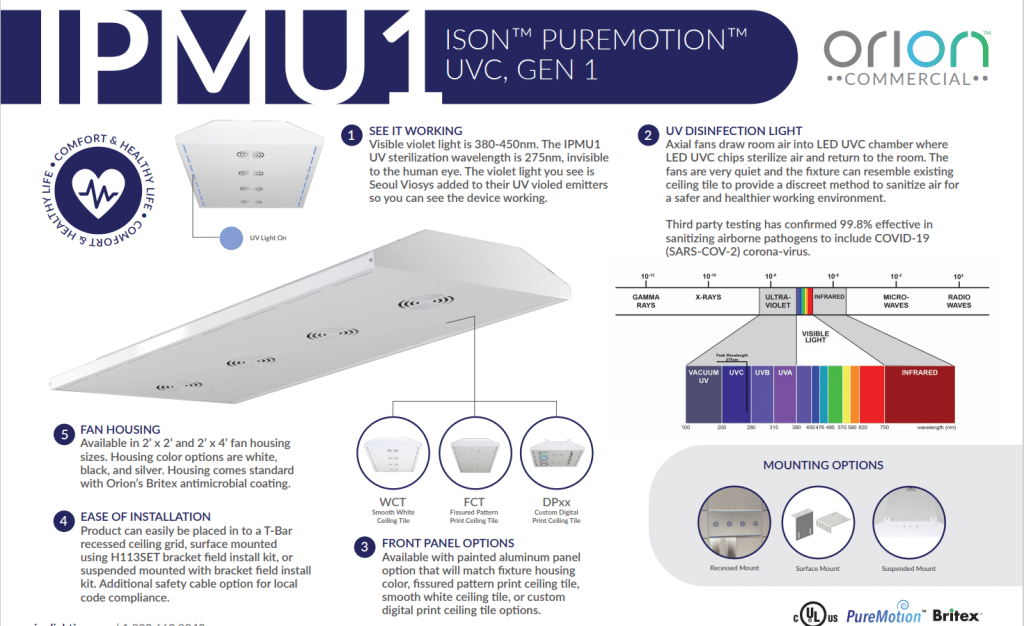 How does PUREMOTION help fight SickBuilding Syndrome?
• Sterilizes: The PureMotion IPMU1 device an American-made commercial UV sanitizer uses UVC technology to provide continuous air sterilization of airborne bacteria and viruses, including COVID-19 and variants.
• Mitigates: PureMotion uses air moving technology to significantly reduce allergies, odors, and mildew/mold without filters that require frequent replacement
• Regulates: PureMotion technology helps balance air temperature throughout the space causing HVAC load reduction and reducing your carbon footprint
• Creates ACH: Increases Air Changes per Hour causing air to rotate more frequently in a space. Additional ACH helps keep fresh air always moving throughout the space
How Does it Work
Visible violet light is 380-450nm. The IPMU1 UV sterilization wavelength is 275nm, invisible to the human eye. The violet light you see is Seoul Viosys added to their UV violed emitters so you can see the device working.
Axial fans draw room air into the LED UVC chamber where LED UVC chips sterilize the air and return to the room. The fans are very quiet and the fixture can resemble existing ceiling tile to provide a discreet method to sanitize air for a safer and healthier working environment. Third-party testing has confirmed 99.8% effectiveness in sanitizing airborne pathogens to include COVID-19 (SARS-COV-2) corona-virus.
Available with painted aluminum panel option that will match fixture housing color, fissured pattern print ceiling tile, smooth white ceiling tile, or custom digital print ceiling tile options
The product can easily be placed into a T-Bar recessed ceiling grid, surface mounted using H113SET bracket field install kit, or suspended mounted with bracket field install kit. Additional safety cable option for local code compliance.
Available in 2' x 2' and 2' x 4' fan housing sizes. Housing color options are white, black, and silver. Housing comes standard with Orion's Britex antimicrobial coating.
American made commercial UV sanitizer